Shoot me now...
Wednesday, February 06, 2008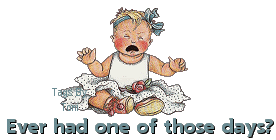 I don't believe it - ooh why does this sound like a Victor Meldrew (One Foot in the Grave) moment, hmm!!!
Well the third thing has happened - they say things happen in threes and this was a biggy. My 300gb external hard drive has died!! I don't know how as it was working last time I used it

, one minute it was working happily and the next "dead".
As you can imagine I am not a happy bunny, especially as I had a lot of word documents and emails saved on there. I also had over 8gb of music which I had downloaded onto there.
But the most annoying thing is that I had over 2 years (2006 and 2007) worth of "
The Gift of Stitching
", which is really made me mad as I didn't burn them onto a cd at the end of each year. But I have just looked at their website and you can purchase a year's bundle of back issues for $18.00. So I shall have to buy the two years bundles - $36.00. And this time I will make sure I copy them onto a cd. So now I have to creep to D to see if he will let me borrow the CC, although I think he might be a bit hesitant especially as I have the laptop payment on there at the moment.. Oh well at least I can download the back issues as a whole bundle so that is something I suppose.
Is this it now - they say things happen in threes and this has certainly been the case recently.
Labels: General
Flying towards my dreams @7:30 am
Comments 0
Subscribe to
Posts [Atom]
*My ramblings on life and stitching*


*All about me..*
100 Things About Me
101 things in 1001 days project - updated 21/11/07


::Blogs I read on Bloglines::



Household:

Me and DH,
Pets:

Ollie 9yr cat, Amy 9yr cat, Jet 6yr dog and Scruffy 7yr dog

Birthday:

11th February

Home:

United Kingdom

My Star Sign:

Aquarius

R.I.P.:...

Patch 20.7.90 - 3.12.02 Barney 30.5.87 - 18.8.05
Mum 14.7.47 - 24.11.06
Smudge 27.08.1988 - 4.9.08
Fred 20.01.99 - 27.08.09


Currently Reading:




*10 Project Challenge...* 8 of 10 finished April 2007


*Wishlist*





*My Favourite Links*



::Stitching Bloggers::




*Finished stitching for 2007...*

Winter Quaker Exchange
Needlework Smalls Exchange
Valentines Exchange
Redwork Exchange
Birthday Exchange
Biscornu Exchange
Our Love of Needlework Exchange
Spring Quaker Exchange
ABC Exchange
Monochromatic Exchange





*Finished stitching for 2006...*

AION Valentines Exchange
Friendship Exchange
Laura's Quilt piece
Mail Art Exchange
Melanie's Exchange
SBBE Spring Exchange
House Exchange
Summer Exchange
Redwork Exchange
Spring/Autumn exchange
Halloween Exchange
Crazy Cat Lady Exchange
SBEBB Christmas Ornament Exchange


*Links*



::The Memes List::



::WOCS::




Previous | List | Next
Powered by RingSurf






*Blogs*


< < # Girls Blog UK ?
My ramblings list

*The Past*



*CREDITS*
brushes
camisado