The weekend and the weather..
Tuesday, July 18, 2006
Not a lot really has been going on here at Chez Natty's, but we did have a flurry of activity on Saturday..lol. Ok it wasnt a lot of activity but for me it was quite an achievement. You see we went to the Kent County Show at Detling this year, and I had a glorious time. The weather was not as unbearable as the previous few days, which was a blessing in disguise. There was a really nice breeze blowing across the showground, which was lovely. I must admit if it hadn't been breezy the heat would have been totally unbearable, and I know we would have had to come straight home.
We spent over 4 hours walking around the different attractions going back and forwards to different stalls etc.. They European wolves were there again, but I wasnt brave enough to go in the cage and pet them, although they did look very docile. I wished I had done this, but maybe next year - I will also remember to take the camera next year so I can get more pictures of them, as stupid me forgot the camera and didnt realise 'till we were halfway there and D didnt want to turn around..
I can truthfully say I didn't spend as much money as I anticipated, infact I even came home with half of it, which is an achievement for me. I did try and get D to buy me a couple of things but he was hanging onto his wallet for grim death, like he normally does..

Although saying that we did manage to come home with plenty of food that we brought at different stalls..- duck with apricot and ginger sausages, two fruit pies (blueberry and apple and a black cherry one). We had also discovered the duck stall was selling duck pasties and cold duck pannini's so guess what we had for dinner..lol And they were delicious..

The highlight of the day I think, for me, was this fantastic
Cyberstein robot
. The only way I can describe it is as an 8ft grey robot that is totally self sufficient, a robot with a brain I suppose. It gave the impression that it was doing things on its own, but in actual fact there is someone in the robot. How they actually manipulate this robot is a mystery but believe me its a great attraction. People that were in the front row around this robot were being serenaded, and the robot was dancing around. It was fantastic, I just wished I had taken some photos. Although I have managed to find a photo online: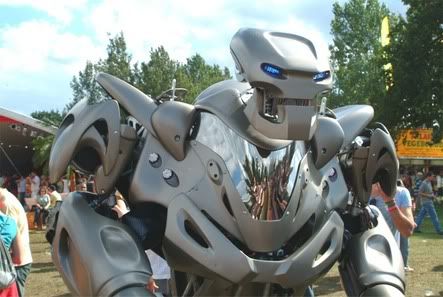 Sunday was a "rest" day as unfortunately Saturday had completely wiped me out physically and mentally, so I spent most of the day doing nothing and watching t.v. or snoozing on the sofa. It was even too hot to do any stitching which is a rarity. Although at the moment with our weather we are having this week moving about is an effort as its way too hot. They are forecasting 35 deg by Wednesday, and then thankfully its going to break on Thursday/Friday when we finally get back to normal temperatures of 25 deg.. I think even the animals are starting to feel it as Bear doesnt actually move much from his chair. The only movement he does is get off and have a drink then get back on and go to sleep.. The cats are just asleep upstairs in the cool all day then they go out and play in the garden when is has cooled down a bit at night.
My mood ~~~

Flying towards my dreams @11:11 am
Comments 0