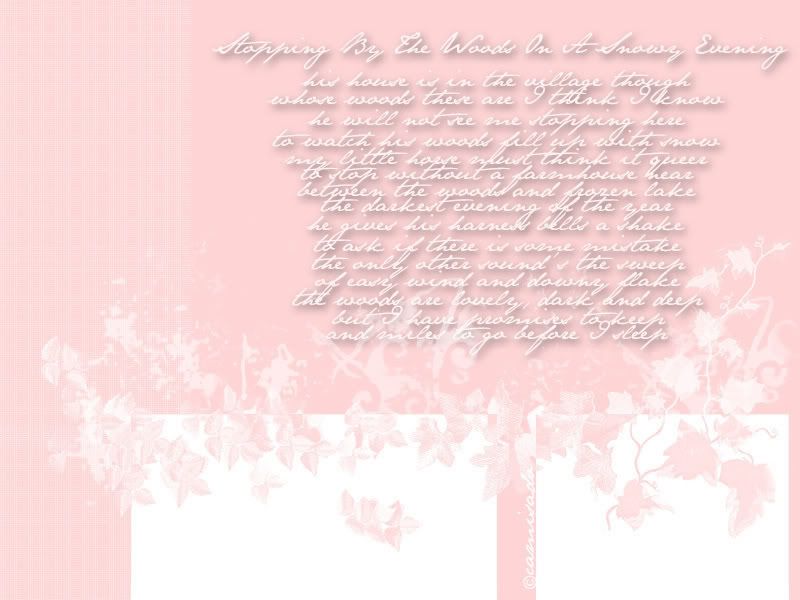 Bleugh!!
Friday, April 28, 2006
I don't know what on earth is wrong with me at the moment, I have had two bleugh days and I don't like them. The only trouble is I am finding that I am hiding this from D, yep it seems I am heading back down that road again - the old "nothing is wrong, I'm fine" route and the "happy" mask has come out again. I don't like to tell him how I am feeling as we have had some really good times recently and he has been so much happier seeing me back to my cheerful self and doing things around the house etc. So in order to keep him happy I am still doing these things, and cooking proper meals at dinnertime but to be truthful it isnt me. The only way I can describe it is is that I am an empty shell at the moment, I am doing everything on automatic pilot - but there is no feelings involved.
I don't even know why I am feeling like this, I can't explain any rhyme or reason to it.. If a total stranger saw me, or came into the house, heck not even a total stranger, friends or family - they wouldn't see anything wrong, there wouldn't be anything to even hint at how I am. I would go as far as to say they would say that they would have thought I was back to my "old" self again. But to be truthful again, it is the mask - the glorious front that I really had thought I had got rid of. But no I find it is still there, and it wasn't buried that deep either. To be honest I was hoping that it had gone for good but I was wrong..

Flying towards my dreams @1:40 pm
Comments 0
Subscribe to
Posts [Atom]
*My ramblings on life and stitching*


*All about me..*
100 Things About Me
101 things in 1001 days project - updated 21/11/07


::Blogs I read on Bloglines::



Household:

Me and DH,
Pets:

Ollie 9yr cat, Amy 9yr cat, Jet 6yr dog and Scruffy 7yr dog

Birthday:

11th February

Home:

United Kingdom

My Star Sign:

Aquarius

R.I.P.:...

Patch 20.7.90 - 3.12.02 Barney 30.5.87 - 18.8.05
Mum 14.7.47 - 24.11.06
Smudge 27.08.1988 - 4.9.08
Fred 20.01.99 - 27.08.09


Currently Reading:




*10 Project Challenge...* 8 of 10 finished April 2007


*Wishlist*





*My Favourite Links*



::Stitching Bloggers::




*Finished stitching for 2007...*

Winter Quaker Exchange
Needlework Smalls Exchange
Valentines Exchange
Redwork Exchange
Birthday Exchange
Biscornu Exchange
Our Love of Needlework Exchange
Spring Quaker Exchange
ABC Exchange
Monochromatic Exchange





*Finished stitching for 2006...*

AION Valentines Exchange
Friendship Exchange
Laura's Quilt piece
Mail Art Exchange
Melanie's Exchange
SBBE Spring Exchange
House Exchange
Summer Exchange
Redwork Exchange
Spring/Autumn exchange
Halloween Exchange
Crazy Cat Lady Exchange
SBEBB Christmas Ornament Exchange


*Links*



::The Memes List::



::WOCS::




Previous | List | Next
Powered by RingSurf






*Blogs*


< < # Girls Blog UK ?
My ramblings list

*The Past*



*CREDITS*
brushes
camisado