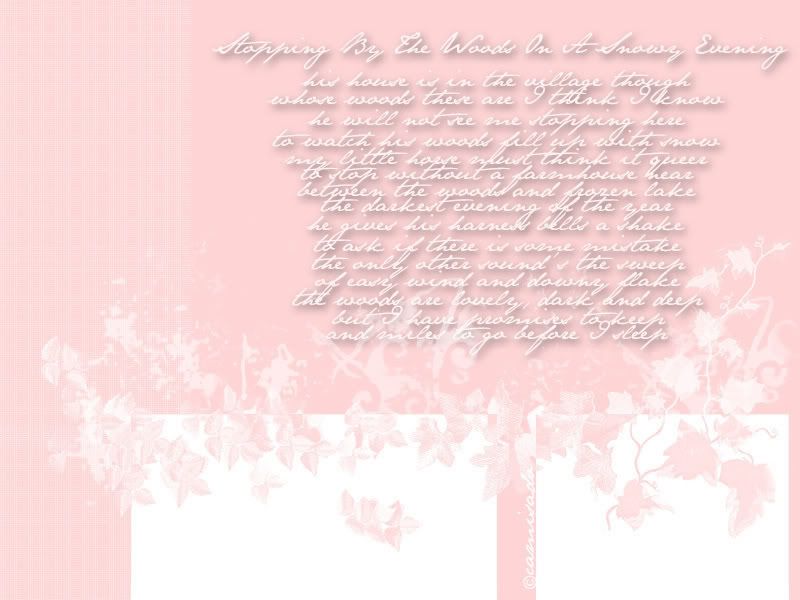 Another day of no sleep and I am bored..
Wednesday, February 01, 2006
Don't say I didnt warn you..lol
Your Love Element Is Water

In love, you connect deeply and commit totally.
For you, love is all about taking risks and moving into unknown territory.

You attract others with courage and confidence.
Your flirting style is defined by your flexibility and ability to adapt.

Nurturing and shared learning are the cornerstones of your love life.
And while you may jump in to love too quickly, you always come out the wiser for it.

You connect best with: Metal

Avoid: Earth

You And another Water element: will pull each other down into a dark place
You Are a Newborn Soul

You are tolerant, accepting, and willing to give anyone a chance.
On the flip side, you're easy to read and easily influenced by others.
You have a fresh perspective on life, and you can be very creative.
Noconformist and nontraditional, you've never met anyone who's like you.

Inventive and artistic, you like to be a trendsetter.
You have an upbeat spirit and you like almost everything.
You make friends easily and often have long standing friendships.
Implusive and trusting, you fall in love a little too easily.

Souls you are most compatible with: Bright Star Soul and Dreaming Soul
Your Love Life Secrets Are

Looking back on your life, you will only have one true love.

Although you may have been hurt before, you tend to bring very little scars into new relationships.

You prefer a quirky, unique person to be your lover. You're easy going about who you're with, as long as they love you back.

In fights, you are able to walk away and calm down. You are able to weather the storm.

You have a hard time ending relationships, even if the other person says it's over.
What Your Face Says

At first glance, people see you as warm and well-balanced.

Overall, your true self is passive and thoughtful.

With friends, you seem dramatic, lively, and quick to react.

In love, you seem mysterious and interesting.

In stressful situations, you seem sad and helpless.
You Should Be A Cancer

What's good about you: you're incredibly kind, caring, and generous

What's bad about you: you can be too moody and impossible to understand

In love: you enjoy wining and dining the object of your affection

In friendship, you're: likely to depend on other friends for emotional support

Your ideal job: historian, marine biologist, or religious figure

Your sense of fashion: you dress to match your mood

You like to pig out on: classic home cooked meals, like mac and cheese
You Are Winter!
Intelligent
Serious
Cozy
Calm
Shy
Flying towards my dreams @1:39 am
Comments 0
Subscribe to
Posts [Atom]
*My ramblings on life and stitching*


*All about me..*
100 Things About Me
101 things in 1001 days project - updated 21/11/07


::Blogs I read on Bloglines::



Household:

Me and DH,
Pets:

Ollie 9yr cat, Amy 9yr cat, Jet 6yr dog and Scruffy 7yr dog

Birthday:

11th February

Home:

United Kingdom

My Star Sign:

Aquarius

R.I.P.:...

Patch 20.7.90 - 3.12.02 Barney 30.5.87 - 18.8.05
Mum 14.7.47 - 24.11.06
Smudge 27.08.1988 - 4.9.08
Fred 20.01.99 - 27.08.09


Currently Reading:




*10 Project Challenge...* 8 of 10 finished April 2007


*Wishlist*





*My Favourite Links*



::Stitching Bloggers::




*Finished stitching for 2007...*

Winter Quaker Exchange
Needlework Smalls Exchange
Valentines Exchange
Redwork Exchange
Birthday Exchange
Biscornu Exchange
Our Love of Needlework Exchange
Spring Quaker Exchange
ABC Exchange
Monochromatic Exchange





*Finished stitching for 2006...*

AION Valentines Exchange
Friendship Exchange
Laura's Quilt piece
Mail Art Exchange
Melanie's Exchange
SBBE Spring Exchange
House Exchange
Summer Exchange
Redwork Exchange
Spring/Autumn exchange
Halloween Exchange
Crazy Cat Lady Exchange
SBEBB Christmas Ornament Exchange


*Links*



::The Memes List::



::WOCS::




Previous | List | Next
Powered by RingSurf






*Blogs*


< < # Girls Blog UK ?
My ramblings list

*The Past*



*CREDITS*
brushes
camisado