Update finally..
Sunday, June 12, 2005
Well although its gone midnight and I really should be in bed I thought I would do the update that I was going to do ages ago.. So here it is.its not in any particular order though :-)
The week hasnt been very eventful really, havent been out that much. Well actually I only went out once and that was to the post office and then I got the shakes while I was walking back and when I got home I was sweating buckets. So this is not good me thinks, I just hope its not the start of agrophobia that my CPN is saying I could be getting..I doubt it..lol
Stitching wise, thats been as eventful as watching paint dry..lol. I've only really picked up the odd bit now and again, I've mainly been reading or watching t.v. Or worse still actually doing housework..lol. I know terrible isnt it..:-)
Was a dozy klutz the other day, and Dave says its one of my classics. I had prepared the dinner so that it was all cooked and ready to dish up for when Dave came home. Casserole was in the oven cooking nicely and I had put the rice in the steamer to steam away. So it came to dish it all up, casserole all cooked and on the counter, went to dish up the rice only to find that I hadnt turned it on at the main switch..doh!! I was left with a steamer full of uncooked rice and water. Dave thought it was hilarious but me, oh god I threw a fruit loop The end of the world had come as far as I was concerned. Anyway while I was mopping up my tears Dave took control and did the rice in the microwave and dished up dinner. So all was not lost on that front. Just I lost it..:-(
CPN, finally got to talk to Dave whilst he was at work and had a good talk about me. Dave did fill in Steve on what a good performance I can put on when he comes round - like I am cleaning like mad for the day before he arrives, I literally have to drag myself out of bed and shower, get dressed and do my hair. Just because the house is clean, tidy and I am smartly dressed and have done my hair does not mean I am not crying inside. He told him that I have been putting a mask on for people for over 10 years now, and I have got nearly everyone convinced, that when I am happy, smiling and bubbly I am fine. He hoped that Steve was a good enough CPN to see through this mask. They've talked about trying to get me out a bit more, even if its just to the end of the road as I will become an agrophobic if I am not careful. Although how that can happen I dont know as I do go out, just when I want to, not when someone tells me to. If someone pushes me to go out I dig my heels in deeper and its even harder to get me outside. The good news on that phone call, as if there was any..lol. Was that Dave was actually doing a good job careing for me, and he would be getting some leaflets through regarding carers and support groups for him. And in the eyes of the mental health team he is my official carer..wow as if we didnt know that..
Oh while I was up the village popping into the post office, I did pop into the newsagents there and was surprised to see that they have nearly every craft and stitching magazine going. So I think I might have to put a permanent order for one or two of them, but havent quite decided which yet. But its nice to know that a little poky newsagents in a village sells all magazines going..lol
And why did I set up paypal to go from my bank account..lol. Worse move I ever did, I have had a stash spend up this afternoon getting some Dinky Dye threads and some Kates Kloths threads too. As well as buying several Just Cross Stitch magazines on ebay..at this rate I am going to be broke before I even get my benefit money..lol.
While I was out in the garden during the week I spied these flowers growing in the concrete path just between the front grass and drive: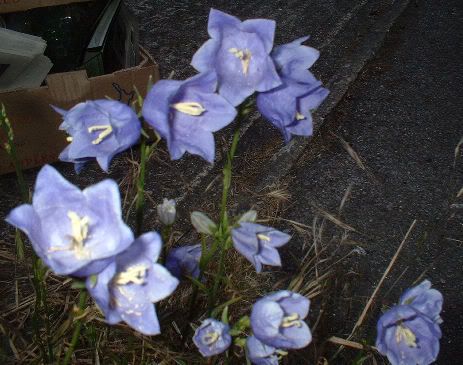 They are a gorgeous blue and totally come from nowhere, but we think they have either been dropped by the birds or the seeds were lying dormant till Dave decided to lay the bark in the borders.
Little bit of info about HarebellsThe Harebell (Campanula rotundifolia)

Family - Campanulaceae
Type - herbaceous perennial
Related - Canterbury Bells, Carpathian Bellflower, Peach-leaved Bellflower
Also known as The Bluebell of Scotland
Found in: - Britain (harebell), Finland (kissankello), United States, Germany (rundblättrige glockenblume), Norway (blåklokke), Denmark (blå-klokke, liden klokke), Iceland (bláklukka), Sweden (liten blåklocka)
Found in dry, grassy banks and downlands. The flowers are scentless but are visited by butterflies and bees, including the very small Harebell Carpenter Bee which shows a preference for their pollen and nectar. Thrives in poor, dry soils and flowers July-September.
Folklore
The flower of witches, who used its juice as part of their flying ointment. Its associated with seeing fairies, goblins and earth spirits. It was also thought to be associated with the devil and to bring bad luck, but it also was used by witches to transform themselves into hares. This was the fairy plant of the south-west of England; in the Isle of Man the 'fairies' thimble'; the bluebell of Scotland (also the Devil's bell). Clumps of this thick and pretty ground cover were once thought to offer shelter to the fairies.
Other Info
Stamps - the harebell has appeared on Swedish stamps as it is the Central Ostrobothnia (Keski-Pohjanmaa) provincial flower.
Art - one of Cicely Mary Barker's famous flower fairies was the Harebell Fairy
Hmm think that is it really, see told you it was boring..lol
Oh Spike, our resident blackbird, almost came in through the patio doors the other morning - he is certainly getting bolder. But he doesnt look any sleeker - he still has bits sticking out all over the place.
Before I forget we watched Shawn of The Dead tonight, and it was absolutely hilarious. I was amazed at how funny it was, even Dave thought it was funny. It was actually nice to sit and watch a film on t.v. without the computer being on and me being distracted. :-)
Flying towards my dreams @12:53 am
Comments 1