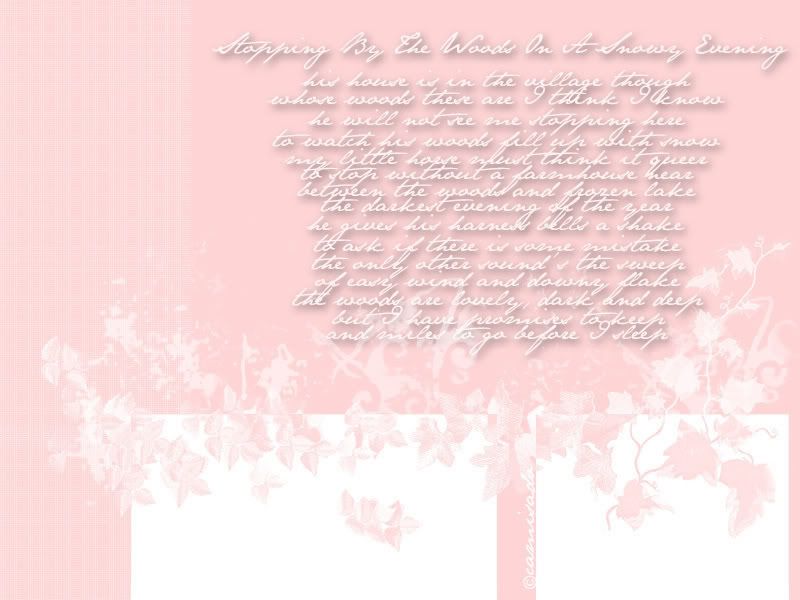 I'm bored tonight..
Friday, May 30, 2008
Not a lot to put the past couple of days I'm afraid. I have had a bit of a slow time doing nothing in particular, so I will post a meme that I saw on Yvestown's blog today.

What time did you get up today? 9.00am

Diamonds or pearls? Diamonds.

Latest movie in a movie theater? I can't remember .. oops!!

Favorite TV series? House

What did you have for breakfast? A bowl of malted shreddies and a cup of tea.

What's your middle name? Alice.

Favorite food? Traditional English cooking, for example jam roly poly, meat pie, stews etc..

Which food don't you like? Gypsy Tart and Butterscotch Tarts, as well as Liver..ugh! Remind me too much of school!

What's your favorite CD at the moment? I haven't got a favourite one I'm afraid.

What car do you drive? Daewoo Lanos

Favorite sandwich? Fried Egg.

Which human traits can't you stand? Jealousy, arrogance, ignorance.

What are your favorite clothes? Jeans and a cute top.

If you could travel anywhere, where would you go? Alaska..

Favorite clothing brand? I haven't got a particular favourite.

Where would you like to retire? The Cotswolds in the UK.

Favorite time of day? Sunset..

Where were you born? Farnborough, UK

Which is your favorite sport to watch? I don't watch sports :-(

Coke or Pepsi? Diet Coke

Soccer or hockey? Neither

Are you a morning person or a night owl? A night owl.

Pedicure or manicure? Manicure, I can't stand anyone near my feet.

Any exciting news to share? I'm going to a 25 year school reunion in July!

What did you want to become as a child? I always wanted to be a nurse, no good now as I can't stand the sight of blood.

Best childhood memory? Sitting outside my grandma's bungalow, in the garden, shelling peas and drinking homemade lemon barley.

Ever been to Africa? No but I would certainly like to go one day.

Ever rolled anybody in toilet paper? No

Have you ever been in a car accident? I've had one serious one where I wrote my car off after a nasty accident

Favorite day of the week? Every day is a favourite for me..

Favorite flower? Lillies, sweet peas and roses.

Favorite - Hot dog or Chinese food? Chinese food.

Do you own a bike? No

Who was you latest e-mail from? An old school friend.

Where would you like to shop more if you could afford to? New York if I could afford it.

Bed time? Between 11 and 11.30pm

Latest person to share dinner with? My husband D.

What are you up to now? Chatting to old school friends on Facebook.

Favorite color? Pink, silver, peach, purple and all pastel colours.

How many tattoos? None!

Flying towards my dreams @10:32 pm
Comments 0
Subscribe to
Posts [Atom]
*My ramblings on life and stitching*


*All about me..*
100 Things About Me
101 things in 1001 days project - updated 21/11/07


::Blogs I read on Bloglines::



Household:

Me and DH,
Pets:

Ollie 9yr cat, Amy 9yr cat, Jet 6yr dog and Scruffy 7yr dog

Birthday:

11th February

Home:

United Kingdom

My Star Sign:

Aquarius

R.I.P.:...

Patch 20.7.90 - 3.12.02 Barney 30.5.87 - 18.8.05
Mum 14.7.47 - 24.11.06
Smudge 27.08.1988 - 4.9.08
Fred 20.01.99 - 27.08.09


Currently Reading:




*10 Project Challenge...* 8 of 10 finished April 2007


*Wishlist*





*My Favourite Links*



::Stitching Bloggers::




*Finished stitching for 2007...*

Winter Quaker Exchange
Needlework Smalls Exchange
Valentines Exchange
Redwork Exchange
Birthday Exchange
Biscornu Exchange
Our Love of Needlework Exchange
Spring Quaker Exchange
ABC Exchange
Monochromatic Exchange





*Finished stitching for 2006...*

AION Valentines Exchange
Friendship Exchange
Laura's Quilt piece
Mail Art Exchange
Melanie's Exchange
SBBE Spring Exchange
House Exchange
Summer Exchange
Redwork Exchange
Spring/Autumn exchange
Halloween Exchange
Crazy Cat Lady Exchange
SBEBB Christmas Ornament Exchange


*Links*



::The Memes List::



::WOCS::




Previous | List | Next
Powered by RingSurf






*Blogs*


< < # Girls Blog UK ?
My ramblings list

*The Past*



*CREDITS*
brushes
camisado