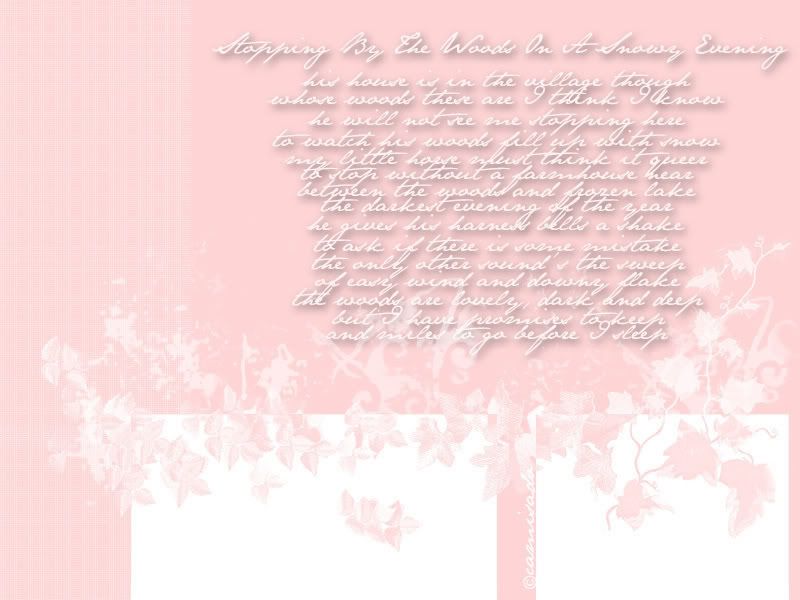 I'm bored before bed, so bear with me...lol
Sunday, July 10, 2005

Your Summer Anthem is Behind These Hazel Eyes by Kelly Clarkson

Broken up, deep inside
But you won't get to see the tears I cry
Behind these hazel eyes

Your summer will be marked by heartache - but mostly happiness.
Your Kissing Purity Score: 54% Pure

For you, kissing isn't a casual thing

Lip to lip action makes your heart sing
You Are Strawberry Ice Cream
A bit shy and sensitive, you are sweet to the core.
You often find yourself on the outside looking in.
Insightful and pensive, you really understand how the world works.
You are most compatible with chocolate chip ice cream.
Slow and Steady
Your friends see you as painstaking and fussy.

They see you as very cautious, extremely careful, a slow and steady plodder.

It'd really surprise them if you ever did something impulsively or on the spur of the moment.

They expect you to examine everything carefully from every angle and then usually decide against it.
Part Romantic Kisser

For you, kissing is all about feeling the romance
You love to kiss under the stars or by the sea
The perfect kiss involves the perfect mood
It's pretty common for kisses to sweep you off your feet
Part Expert Kisser

You're a kissing pro, but it's all about quality and not quantity
You've perfected your kissing technique and can knock anyone's socks off
And you're adaptable, giving each partner what they crave
When it comes down to it, your kisses are truly unforgettable
Flying towards my dreams @12:28 am
Comments 0
Subscribe to
Posts [Atom]
*My ramblings on life and stitching*


*All about me..*
100 Things About Me
101 things in 1001 days project - updated 21/11/07


::Blogs I read on Bloglines::



Household:

Me and DH,
Pets:

Ollie 9yr cat, Amy 9yr cat, Jet 6yr dog and Scruffy 7yr dog

Birthday:

11th February

Home:

United Kingdom

My Star Sign:

Aquarius

R.I.P.:...

Patch 20.7.90 - 3.12.02 Barney 30.5.87 - 18.8.05
Mum 14.7.47 - 24.11.06
Smudge 27.08.1988 - 4.9.08
Fred 20.01.99 - 27.08.09


Currently Reading:




*10 Project Challenge...* 8 of 10 finished April 2007


*Wishlist*





*My Favourite Links*



::Stitching Bloggers::




*Finished stitching for 2007...*

Winter Quaker Exchange
Needlework Smalls Exchange
Valentines Exchange
Redwork Exchange
Birthday Exchange
Biscornu Exchange
Our Love of Needlework Exchange
Spring Quaker Exchange
ABC Exchange
Monochromatic Exchange





*Finished stitching for 2006...*

AION Valentines Exchange
Friendship Exchange
Laura's Quilt piece
Mail Art Exchange
Melanie's Exchange
SBBE Spring Exchange
House Exchange
Summer Exchange
Redwork Exchange
Spring/Autumn exchange
Halloween Exchange
Crazy Cat Lady Exchange
SBEBB Christmas Ornament Exchange


*Links*



::The Memes List::



::WOCS::




Previous | List | Next
Powered by RingSurf






*Blogs*


< < # Girls Blog UK ?
My ramblings list

*The Past*



*CREDITS*
brushes
camisado