Weekend fun!!
Monday, July 18, 2005
Saturday was a glorious day, but thankfully not too hot weatherwise :) D got up nice and early and did his usual routine of walking Bear and doing the shopping :-) We then went to Homebase and picked up another air conditioning unit :-) Oh boy am I glad we have one in the bedroom and one in the living room now - its actually cool instead of sweltering. So the weather can be as hot as it likes outside cos its beautiful and cool indoors :-)
Anyway back to Saturday, after picking up the A/C unit,we drove to Detling Show Ground where the Kent County Show was. Well after we parked and had to walk what seemed like a blooming mile, actually I think it was a mile..lol. We finally got in to the showground. D was so glad that he had bought the tickets beforehand as the queues to buy them there were horrendous, plus we got a discount for buying early..and D is always looking at ways to save money :-)
So we arrived, and got off to a good start - NOT!! Muggins here had a blooming panic attack as soon as she saw the amount of people inside the showground :-( So after sitting down and downing almost a pint of water I had finally calmed down and we started our day out again..:-)
There was certainly enough to see and do. We popped over to the agricultural section and had a nosey at all the cows, sheep and piglets. I wished I had taken a photo but I had forgotten to renew my batteries in my camera and didnt get new ones till further around the show ground. Typical of me!! Anyway I cooed and aaahed over the animals, chatted to a couple of people and even bought a KYF (Kent Young Farmers) bracelet to support farming in Britain. Next we went for a walk all the way around the ground looking at all the attractions from new cars to a wheelbarrow :) Hey you could even buy a horse box if you wanted..lol Popped into the Food Expo arena, and tried nearly every tidbit going..lol. I did treat myself to some home made fruit pies from Lime Tree Pantry, oooh they are heaven and just melt in the mouth pastry, and just bursting with fruit. They are now safely frozen away in the freezer for puddings :-)
We stopped for lunch which was lovely :) A roasted pork, stuffing and applesauce baguette for me, and a roasted beef and gravy baguette for D. Washed down with some apple juice from one of the stalls. We then sat and watched the brass band playing in the main picnic area for a while :-)
Then went and watched the bloodhounds in the countryside arena. You could even go in the area and pet them. It was sweet to see the kiddies around these huge slobbering animals. One even tried to run off with one of my fruit pies, but got stopped before he got his head too far out the fence..cheeky dog!!
Here's a picture of a couple of them: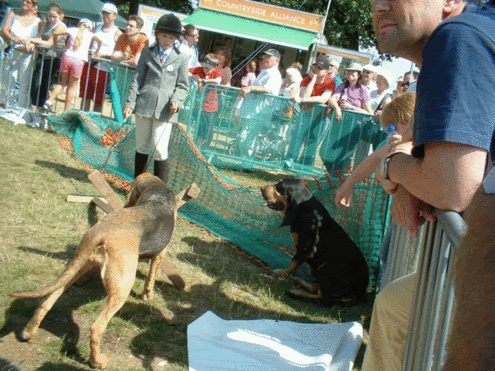 Then I dragged Dave off to see the wolves. I had been itching to get to see them all day, and was in my element when we got there. They only had two females there, and they were Timberland wolves. But they were glorious and so docile :-) Sadly they were booked to actually go in and pet them, but I wasnt too worried as I managed to get some good pictures of them...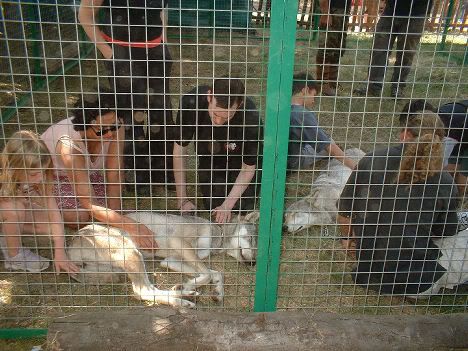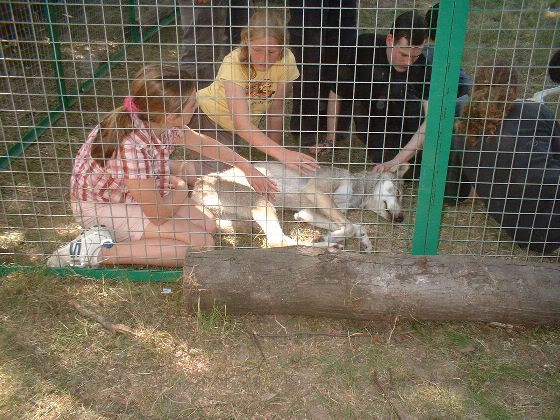 After drooling over the wolves, we had another look around the stalls we had missed, and then made our way back the mile to fetch the car :-)
It was a lovely day, and the weather was just right. Not too much sun, and just the right amount of breeze.
Although I did manage to get a wee bit sunburnt across my shoulders, on my back along my shoulder blades and down my front a bit. Which I am now paying for dearly as it is a wee bit stiff.. :-(
Sunday was a non eventful day, as we were both knackered from yesterday's jaunt. So we did nothing apart from D walked the dog, I did some ironing and tidied up.
Flying towards my dreams @3:17 pm
Comments 0